ASIrri - Cambodia
Irrigation Service Center (ISC) - Building the future of FWUCs
FWUC Participatory Evaluation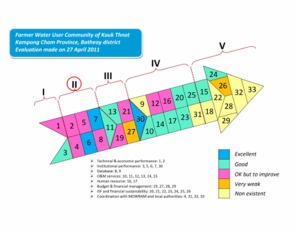 The ASIrri project has developped a participatory methodology for evaluating FWUC management based on 33 criteria (inspired by a similar methodology developped by AVSF in Cambodia to evaluate Farmer Organizations).
This methodology has been tested on 13 FWUC in March-April 2011 (12 members of FWN and Po Pi Daem scheme).
Only Prey Nup reached the level V and Stung Chinit the level IV. Stung Chinit failed to reach the level V mainly because of its poor financial sustainability and its dependence on subsidies.
Other experienced FWUC which are collecting ISF at a low level were classified in level III: O Treng, O Veng, Sdao Kong, Prek Ta Roat.
Other FWUC could reach only the level I or II (see detailed evalation sheets below).
En savoir plus
Cliquez sur la photo pour l'agrandir