ASIrri - Cambodia
Irrigation Service Center (ISC) - Building the future of FWUCs
Sdao Kong (SDK)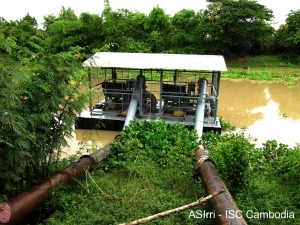 Sdao Kong scheme:
Prey Veng province
Ba Phnom and Kompong Trabaek districts
Originally built during Pol Pot regime
Rehabilitated by MOWRAM with French Embassy funding
Pumping station with Iary and IIary distribution canals
FWUC creation in 2004 with CEDAC support
Irrigated area: 265 ha
Number of farmers: 215 families
Two seasons fo cultivation per year: [November-March] & [March-August]
ISF = 300,000 riels/ha/season (180,000 riels if suppl. pumping)
The collaboration with ISC started in May 2010 when the FWUC was nearly bankrupt. ISC wrote a request to MOWRAM and AFD for a functioning subsidy. Since then several contracts have been signed and in general ISC ensures the FWUC accounting follow-up.
En savoir plus
Cliquez sur la photo pour l'agrandir