ASIrri - Cambodia
Irrigation Service Center (ISC) - Building the future of FWUCs
Pram Kompheah (PKH)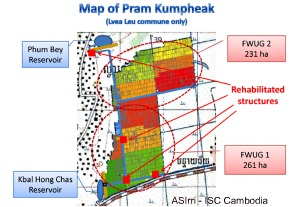 Pram Kompheah ("5 February") scheme:
Kompong Cham province
Chamkar Leu district
Originally built during Pol Pot regime
Rehabilitated by MOWRAM
FWUC creation: 2003
Area ~1,000 ha
The scheme area extend over two communes. The ISC is working only in Lvea Leu commune with two reservoirs where two FWUG have been created:
Kbal Hong Chas and Phum Bey reservoirs
Area: 498 ha in rainy season rice and ~50 ha in early wet season rice
Number of farmers: 719 families
Pram Kompheah was the first ISC customer. 4 contracts have been signed since the beginning of our collaboration in 2009.
En savoir plus
Cliquez sur la photo pour l'agrandir